| | |
| --- | --- |
| Product Dimensions | 11.9 x 17.3 x 5.9 inches |
| Item Weight | 4.27 pounds |
| Shipping Weight | 13.5 pounds |
| ASIN | B075CQHM3M |
| Item model number | QKWXX-601 |
| Batteries | 3 Lithium Polymer batteries |
The GoPro Karma Drone with GoPro HERO6 aims to be more than just a drone and camera combo. These two items combine to give you an end to end life capture solution that is so portable you'll take them with you on adventure without hesitation.
---
---
Portability
The GoPro Karma Drone has been designed to be ultra-portable, and with the ability to fold down and fit into a light weight case the drone can easily go with you on any expedition. To prep for use all you need is to remove from the case and quickly attached your propellers, and then your Karma drone is ready to fly.
Full Control
With the GoPro Karma Drone with GoPro HERO6 you can maintain full control over all of your GoPro's modes even when in flight. With the touch screen display of the Karma drone controller you can also live stream footage for a first person view, as when as initiate automatic take off.
Auto Shot Paths
Your GoPro Karma Drone comes with professional quality Auto Shot Paths that allow you to capture beautiful video without needing to master the intricacies of piloting your drone. Choose from modes like Dronie, Cable Cam, Orbit, and Reveal.
Flight Training
A training simulator is built into the GoPro Karma Drone's controller that will take you through the basics of flying your drone. Your drone also poses an automatic return to home setting that sees it fly back to you in the event of a signal loss or if it flies out of range.
Stable Shooting
The detachable Karma stabiliser ensures you can capture smooth footage while your GoPro Karma Drone is in the air, and the stabiliser can be removed and added to the included Karma Grip for handheld use of your GoPro HERO6.
GP1 Chip
The GoPro HERO6 Action Video Camera utilises a new GP1 processor that has been optimised to provide your GoPro with superior image quality. Images look smooth even in handheld mode thanks to advanced video stabilisation software, ensuring your captured footage looks clean and professional.
Convenience
Shooting in low-light conditions with your GoPro has never been easier than with the GoPro HERO6. The device can also keep track of your GPS path*, storing the information to be used in your videos on the form of stats.
*The Quik desktop app is required to add GPS data overlays to your videos. Download it for free at gopro.com/apps.
---
–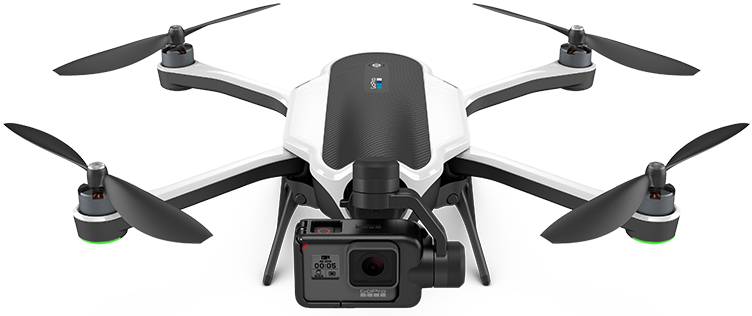 More than a drone.
Capture amazingly smooth footage in the air, handheld or body mounted.